October's Offer of the Month: Safeguard what matters most!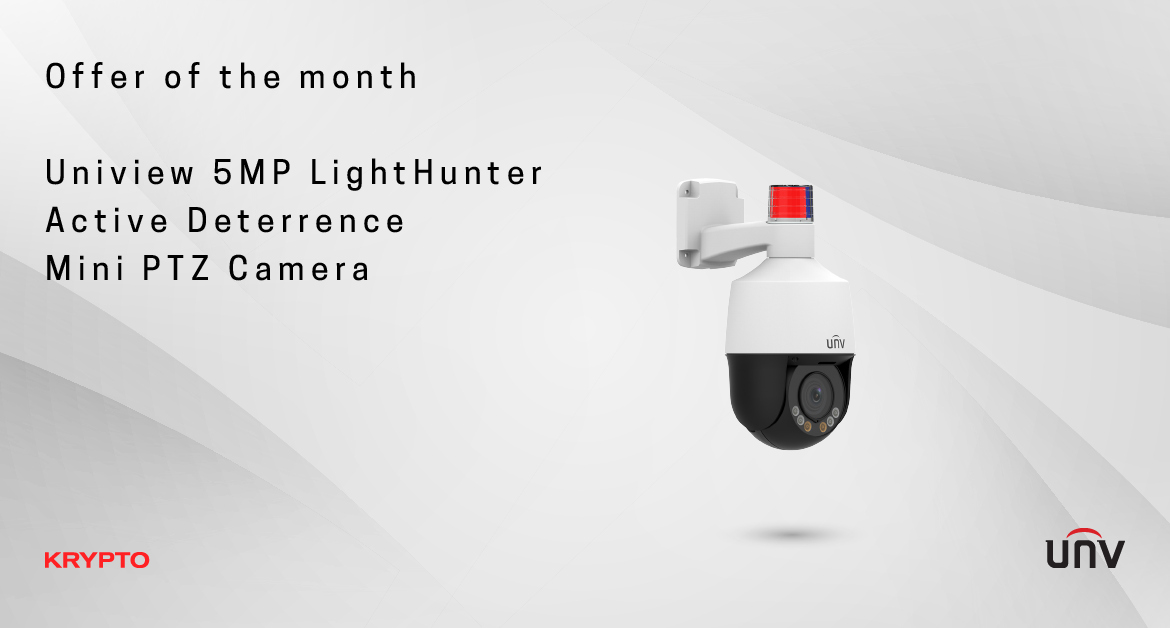 Standard PTZ security cameras sometimes tend to be large, bulky, heavy, and difficult to install and use. They are definitely a mandatory part of a video surveillance system, but sometimes you could just use a mini PTZ camera, combining the powerful features of a full PTZ in a more manageable and affordable way.
Mini PTZ cameras are incredibly lightweight and compact, completing any video surveillance system, whether it's for your home or business.
Uniview's 5MP Mini PTZ Camera IPC675LFW comes with a lot of incredible active deterrence features and functionalities such as motion auto zooming & tracking, pan/tilt/zoom control, human body detection, two-way audio, red and blue strobe light, integrated siren, 164′ IR distance, and LightHunter illumination technology.
Uniview's LightHunter Technology is an innovative technology that delivers vivid color, appropriate brightness, and extremely clear images in ultra-low light. LightHunter Technology significantly improves the image brightness with F1.2 Large Iris design & BSI sensor. With the specially designed large size sensors, the IPCs have higher photosensitivity and feature high SNR. Uniview's uniquely patented technology U-ISP improves the definition and brightness of images. U-ISP features a new generation of noise reduction technology to improve Signal-Noise Ratio and reduce blur. It effectively reduces blur during objects moving, which ensures that the image is restored to the true scene.
With the built-in mic and speaker for two-way audio, red and blue strobe light, integrated siren, and smart human body detection, this active deterrence PTZ just might be the ideal addition to your surveillance system. Besides, its Positioning System makes it a perfect choice for monitoring large open areas, thanks to its strong robustness and stability.
Check out below the full list of features:
Optics
LightHunter illumination Technology
Day/night functionality
Up to 50 m (164 ft) IR and 10m (33 ft) warm light distance
Up to 120 dB Optical WDR(Wide Dynamic Range)
Optical glass window with higher light transmittance
IR anti-reflection window to increase the infrared transmittance
2D/3D DNR (Digital Noise Reduction)
Compression
Ultra 265,H.265, H.264, MJPEG
Built-in microphone & speaker
Alarm Light
Triple streams
ROI (Region of Interest)
Structure
Support PoE power supply
Wide temperature range: -20°C ~ 60°C (-4°F to 140°F)
Wide voltage range of ±25%
IP66