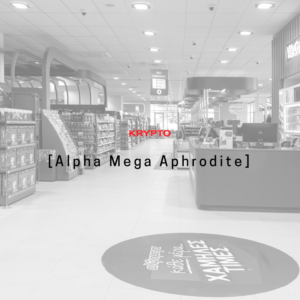 The Mission
When in 1958 the first hypermarket was opened, it may not have been immediately obvious that Alpha Mega would become Cyprus' biggest chain of hypermarkets, boasting 16 stores by 2019. But that's exactly what Alpha Mega is, thanks to the great variety and inclusivity in products and the due diligence that has characterized the business since the start.
Alpha Mega Aphrodite is the hypermarket located in the city of Paphos. Easily accessible like all hypermarkets, Alpha Mega Aphrodite takes pride in catering to even the most demanding customers with the trademark high specialization and top tier products stocking its shelves. A wide range of local and international brands, including items from such supermarket giants as TESCO, guarantees that Alpha Mega Aphrodite will cover even the most particular tastes. Every day, Aphrodite's well trained, fully supported staff stock the hypermarket with only the finest and freshest products. Quality checks are constantly performed to ensure that every customer's experience is the best possible one.
Alpha Mega Aphrodite looks after its employees as much as its customers, making sure a pleasant work environment is constantly maintained and all precautions and protections are in place.
The Challenge
Safety and efficiency are of paramount importance for Alpha Mega Aphrodite on several aspects of daily operations: not only are surveillance and security important during off hours but also during working hours. Incidents of various nature are given since hundreds of customers visit the premises daily and several employees work intensely on different sectors. Immediate assistance and intervention are vital as much as prevention is.
Especially during the period of the pandemic, high demand on constant vigilance regarding safety rules put an extra strain on security services required around the clock for the hypermarket.
This is exactly what KRYPTO Security was called to meet: the challenge of providing full yet unobtrusive security services for Alpha Mega Aphrodite, covering all needs regarding safety, prevention and intervention procedures.
The Solution
KRYPTO is an industry leader in providing custom-made, discreet services at the highest level for all sectors.
For a hypermarket such as Alpha Mega Aphrodite, special attention had to be put on CCTV and surveillance installations. The best kind of intervention when it comes to the usual range of incidents expected in supermarkets is prevention, which is exactly what the full analytics AI software used in conjunction with the high-tier, state of the art CCTV cameras is designed to do: special training of the AI using actual footage from relevant events is designed to warn of high-risk situations so that trained security or employees, depending on the nature of the risk, can intervene and prevent any incident from occurring.
Cutting edge fire alarm systems and intruder alarm systems were also put in place to ensure constant protection from accidents both for customers and employees. Where necessary, KRYPTO also furnished Aphrodite with the proper access control systems.
The Result
KRYPTO's top of the line service, highly-trained control centre operators, and cutting-edge security system which was specifically designed to meet Alpha Mega Aphrodite's needs has ensured a safe, secure work environment for the hypermarket's employees. It has also secured a quality, seamless and relaxed shopping experience for its customers while protecting the premises 24/7.
KRYPTO prides itself on providing the best of the best for every client. In Alpha Mega Aphrodite's case, a complex system of surveillance and security to unobtrusively yet constantly guarantee protection for customers, employees, and the property was designed and successfully installed.