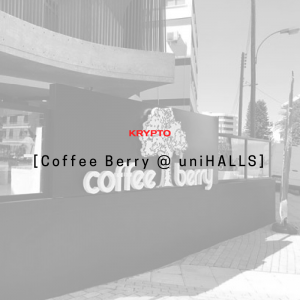 Coffee Berry @uniHALLS Mission 
When established in late 2019, Coffee Berry @uniHALLS immediately became a hub of student life, bringing in a new breath of coffee aroma to the area. Located strategically at a walking distance from most university campuses in Nicosia, Cyprus, Coffee Berry has undertaken an admirable project: to provide students with the best and most unique experience they could be treated to when seeking the necessary cup of coffee that will help them relax, focus, or socialize.
Coffee Berry revolves around making students' life easier, free of agitations and distractions and geared towards life and routine of learning and enrichment. 
Coffee Berry @uniHALLS Significance
Students and coffee are two things that go hand in hand! Coffee Berry @uniHALLS offers the best quality coffee. It has definitely become a place where students study, congregate and relax while enjoying their morning or afternoon treats. It wouldn't be an exaggeration to claim that Coffee Berry Unihalls beats part of Nicosia's student life heart. And that heartbeat needs to be expertly and seamlessly protected.
The Challenge 
Coffee Berry's ultimate objective is to provide students with the optimal environment for learning and living. And that begins with constant, reliable, efficient security which, however, will not cause them to be distracted or uncomfortable. Learning is an arduous, challenging process which cannot take place if someone feels unsafe. 
The mission, therefore, is to provide continuous, daily security services that are tailor-made to fit with the project's needs: prevent all disrupting, damaging or hurtful incidents or occurrences. 
The Solution 
Krypto specializes in custom made solutions for all kinds of businesses, big and small. Coffee Berry @uniHALLS presented a special challenge, as the cafeteria has to maintain its open and available personality, smooth and uninterrupted operations, while at the same time ensuring the topmost security for the students. 
A uniquely designed security system, created solely for Coffee Berry's needs, has been implemented using cutting edge technology and the best possible combination of services to perfectly support the venue: state of the art CCTV with full analytics was selected, in combination and integration with a sensitive, top of the line intruder alarm system. Krypto did not limit measures there, but also supplemented the powerful system with real-time fire detection sensors. 
The security service was topped off with an access control system to ensure that no unauthorized or unaccounted for individuals can enter or exit the in-house cafeteria, further ensuring the safety of students and staff, their property and the property of the business. 
The Result 
Through Krypto's spearhead security services and high end, tailor-made solutions, Coffee Berry is able to offer students the best of everything: excellent coffee, beverages and snacks in an environment that is not only cosy and inviting for learning, creativity and relaxation but guarantees their safety and that of their belongings. It also guarantees a safe work environment for the Coffee Berry staff, as well as solid security for the business venue on the whole. 
By being proactive, vigilant and holistic in our approach, Krypto has ensured Unlimited Safety and the integrity of all stakeholders involved.