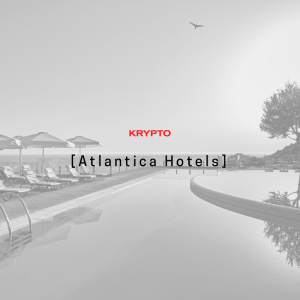 As tourism finally re-emerges from COVID-19 lockdowns, travelling restrictions and isolation rules, hotels around the world face a unique challenge: making the experience of their guests unforgettable and idyllic while also keeping them safe from a pandemic that hasn't quite receded yet. Maintaining safety and all precautions are of paramount importance because peace of mind and a capacity to relax from the daily alertness of the coronavirus risks has now become the basis of vacationing quality and of creating happy memories for happy guests.
Atlantica Hotels have always held themselves to high standards, and thus the top of the line protection from COVID-19 is a priority for personnel and guests alike.
Who are Atlantica Hotels?
They are a network of high-quality, top-service, luxury hotels operating in Cyprus, Greece, and Egypt. With excellent scores on Tripadvisor and a large community of loyal guests, Atlantica Hotels pride themselves on service and on providing unforgettable, unparalleled experiences at their resorts and specialized hotels in several gorgeous locations.
In Atlantica Hotels, guests can enjoy many different kinds of activities and personalized pampering, high-quality food and a thoroughly trained staff geared to pleasing and seeing to their every need.
Nowadays, one vital need is for the guests to take a break from the harrowing reality of a global pandemic, feeling secure and protected, and able to just be carefree. When vacationing or planning a holiday, the only concern you want to have is how to create the perfect memories to take home with.
How are Atlantica Hotels protecting its guests?
True to their excellence creed, Atlantica Hotels have thoroughly updated their safety protocols for protection from COVID-19.
Not only have they special response teams on call for any occurrences and cases detected, they have several additional measures in place except the mandatory ones for social distancing, face mask wearing, frequent sanitizing and disinfection, and available gloves and hand sanitizers for the guests- they also have luggage disinfection, special medically equipped areas and isolation areas.
But the biggest element of protection is early, accurate and thorough detection systems, and this is where Krypto comes in, with special heat-trackers and temperature measuring check-in points.
How are Atlantica Hotels relying on Krypto's Heat Tracking technology?
Krypto's state of the art heat trackers are designed to measure temperature in real-time and for large crowds of people. They are equipped with face recognition and immediate feedback apps, thus making it possible for the staff at Atlantica Hotels to immediately and efficiently spot possible cases and react accordingly.
The constant real-time monitoring at strategic check-in points and public areas that Krypto's heat tracking technology guarantees, gives the capacity to document the progression of Atlantica Hotels' guests' health throughout their stay in the hotel.
This adds yet an extra layer of safety for employees and guests alike, while at the same time being unobtrusive and tasteful, ensuring in this way that the experiences of vacationers are not disrupted in any way even while the necessary precautions are being taken.
Krypto's support for all COVID-19 heat tracking needs is comprehensive and thorough, ensuring Atlantica Hotels' promise of complete protection, prevention, and handling of coronavirus is kept to the fullest.