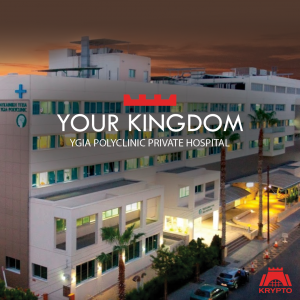 The Client
Established in 1983, YGIA Polyclinic Private Hospital is the largest and one of the best equipped private hospitals in Cyprus, situated in the heart of Limassol. With a clear vision to be the leader in the healthcare sector, YGIA Polyclinic operates according to international standards, ranking among the finest international hospitals.
The hospital continuously invests in new medical technologies, expansions and renovations, as well as constant staff trainings, ensuring the provision of high quality healthcare services. Employing an open model of operation, YGIA allows licensed physicians that have undergone a screening process and have been approved as associate physicians to gain practicing privileges in its facilities. Currently, there are more than 200 physicians with those privileges. In addition, the hospital employs approximately 525 medical, nursing and administrative staff, being one of Cyprus' largest employers.
The Challenge
The security and IT teams of YGIA Polyclinic have always emphasized the significance of ensuring the highest level of security for the hospital's assets, staff and patients. After all, due to its high standards, the hospital could not compromise for anything less than the best. After careful study and market research, they decided to invest on an end-to-end Avigilon security solution, provided by the Krypto Team.
The Solution
A full Avigilon solution including CCTV and Access Control Systems was designed and installed by Krypto. Clear, high-quality imaging, smart and user-friendly software, flexibility and self-learning video analytics technology, are only some of the features provided by this customized security solution, that ensure uncompromised performance and Unlimited Safety for YGIA Polyclinic.
The Result
A state-of-the-art security solution, tailor-made to the hospital's security needs and high standards. From now on, YGIA Polyclinic, as well as its staff and patients, are protected by fully proactive, cutting-edge security systems, designed not only to detect, but to also prevent any harmful events from happening.
#BESAFE