Krypto presented its new exclusive collaboration with Uniview Technologies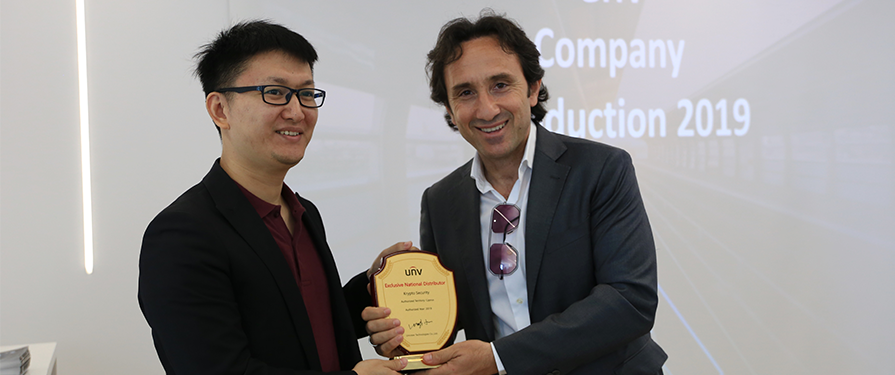 The presentation of Uniview Technologies products took place on Thursday, 6th June 2019, by Krypto Security Cyprus LTD, the exclusive representative of Uniview in Cyprus, in the presence of the Director of Uniview Europe, Steven Tian, as well as the Uniview Sales Manager, Mandy Wei.
Security technicians and specialists, as well as representatives of notable Cyprus businesses, such as Alphamega Hypermarkets, Hellenic Bank and Zorbas Bakeries, gathered at Krypto Security's head offices in Limassol, to view the products and get informed about the services provided in the Cyprus market by this world-renowned brand.
Krypto Security (Cyprus) Ltd was established in 1995. Within a very short time, it became the market leader of the security sector, with the aim of providing its clients with ultimate security. Focusing on quality, reliability and innovation, Krypto ensures the security of its clients offering advanced technology products and services. In April 2018, Krypto Security welcomed Uniview as a representative of its product and services in Cyprus and as of March 2019, Krypto obtained the solo exclusive rights to sell, service and distribute all Uniview products for Cyprus, maintaining its excellent level in partnerships and collaborations.
Uniview is the pioneer and leader of IP video surveillance, with presence in 145 countries. A one of the largest companies in the China security market and the 5th largest globally, the company aims to expand on a global level, investing in the Cyprus market. Uniview's main goal is innovation, which led to the production of products suitable for any environment and for extremely regulated and complex networks. Regarding the Cyprus market, Uniview and Krypto now join forces, aiming to take the provision of unlimited safety to the next level, both for consumers as well as businesses.
Krypto's owner, George Georgiou, was present at the event, welcoming all professionals and emphasizing on the importance of Krypto's clients through his own experience in the industry. Commenting on Krypto's collaboration with Uniview, he stated: "The establishment of this agreement gives us the opportunity to collaborate with a world known company, which stands out for its professionalism and quality. This addition to our products and services offers an alternative quality choice to our existing range of security solutions, in quite competitive prices".
The seminar was successfully completed, receiving excellent comments and leaving the best impression to all esteemed guests and industry professionals, while at the end of the event, a lucky attendee had the chance to win a Uniview Kit.
For more info about Uniview's products, click here.