Krypto's Safety Tips for the Christmas season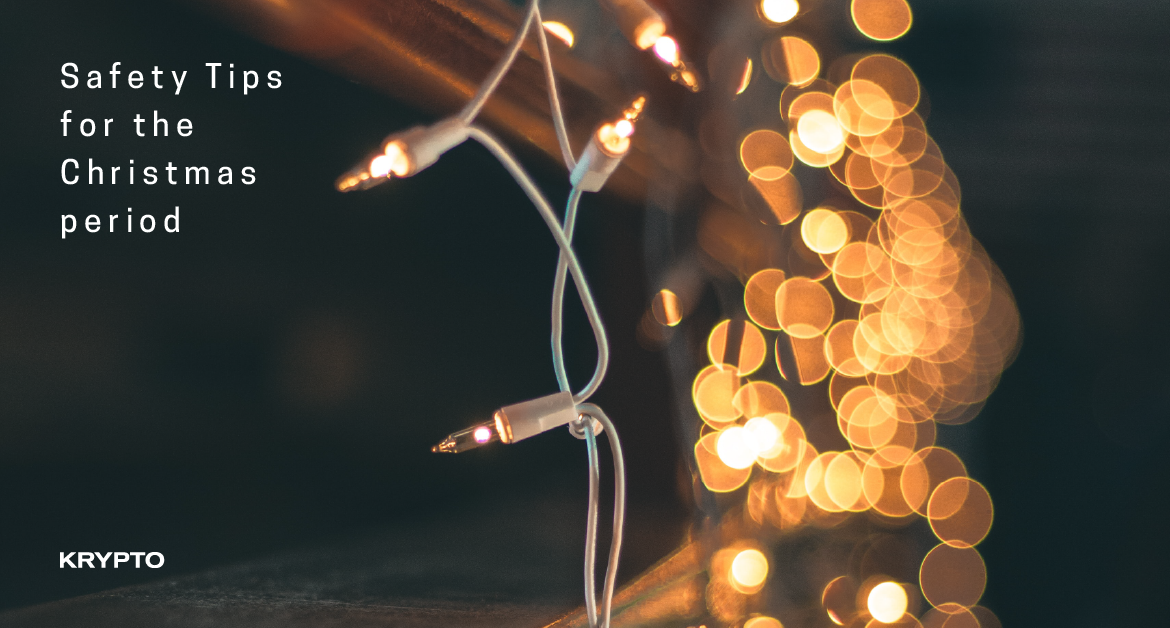 Christmas season is upon us!
Christmas is always a special time of the year. Even if Christmas itself is not observed, not only are several holidays from different religions clustered around the same couple of months- November and December- but there are the Winter Break and general secular festivities for everyone to look forward to.
This season, while the Covid-19 pandemic is well in its second wave, we will find ourselves more confined to our houses for Christmas, with the challenge of celebrating with restrictions that will make our house the main Winter Wonderland for us.
The special circumstances make the need to keep our family and our livelihood safe even more challenging and demanding. At Krypto, our constant concern is the safety of our clients, not only with our services and products, but also with suggesting precautions that will ensure better protection from accidents and malfeasance.
What are the basic safety tips for the holidays that Krypto recommends following, for a carefree and happy festive season?
1. Protect your home from fire hazards
Christmas decorations are lovely, but they also are kindling. Most of the material used to make Christmas decorations is highly flammable- and that includes the Christmas tree. Whether yours is natural or plastic, the danger remains.
If the tree is natural, as it dries out in the house it becomes more and more flammable. If it is made of plastic, it is flammable from the get-go.
The first thing you should do is make sure that any heating devices, open flames (such as candles, the fireplace, etc), and other heat or spark-producing devices are kept away from the tree and the decorations in the house.
You should never leave any such devices unattended. So, when you go to sleep or leave the house, everything should be turned off and any fires or candles extinguished.
2. Maintain your electrical circuitry properly
With its beautiful lights and other electric decorations and toys, the festive season puts a big strain on our home's electrical circuits. If an overload is caused, we run the risk of fire or serious damage to appliances or the electrical circuits themselves.
Therefore, always be cautious of how you are connecting your decorations to the house's electrical system. Never forget that you are powering the lights or the toys or figurines on top of all the major appliances that are working in the house. Make sure you don't have everything working at the same time.
Always remember to switch off the lights and decorations when you go to bed and when you leave the house.
3. Don't invite thieves
It might sound like a no brainer, but we might be inviting thieves without realizing while we are merry: putting wrapped gifts or other alluring items, including the decorated tree, near the window can be a very efficient way of doing that.
Thieves mostly operate on the principle of opportunity: they break in a house if the risk is relatively low and the supposed gains high. And putting gifts near a window, only requires breaking the window and grabbing all the gifts.
Keep all doors and windows locked and secured.
4. Keep your security systems up to date
Invest in acquiring or maintaining a good, current security system that will alert you if any attempts at intrusions are made while it will also prevent accidents from becoming devastation: fire detection is especially important in the home at all times, but especially during the holiday season.
At Krypto, we can ensure your security systems are not only up to date but sufficient for your personal needs. With our 24/7 remote control center surveillance we also ensure that help will be on the way immediately for any need, thus minimizing the impact of any incident on this special time of the year.
Have a great Christmas season and stay safe!