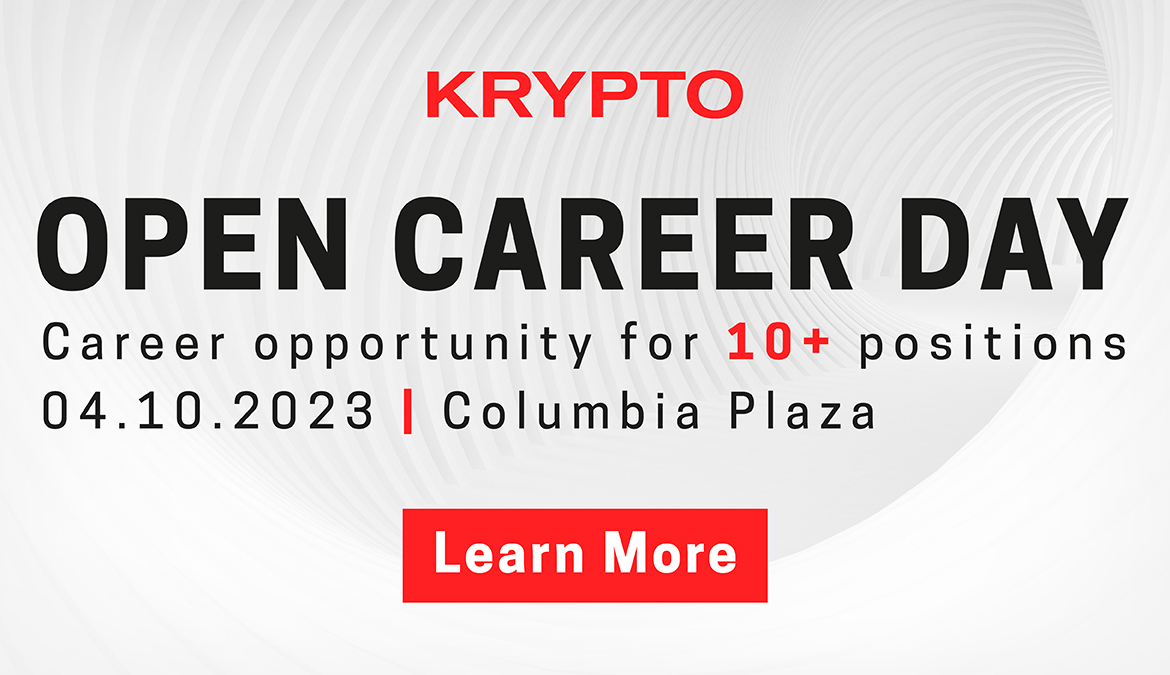 Krypto is excited to announce its upcoming Open Career Day, a unique opportunity for individuals of all backgrounds to explore and learn about the exciting career opportunities it offers. This event is scheduled to take place on Wednesday 04.10.2023 from 12.00 to 20.00 at Columbia Plaza, Limassol.
Krypto's Open Career Day aims to connect job seekers and anyone interested in the security market with the industry's professionals and experts, and empower attendees on their career journeys. Specifically, Krypto is offering career opportunities for 10+ positions:
Chief Technical Officer (CTO)
Chief Commercial Officer (CCO)

Business Administrator

Sales Rep/Account Manager

Billing and Debt Retrieval Officer

Receptionist

Technical Coordinator

Senior Technician

Services Technician

Technician

Project Manager / Electromechanical Engineer
Krypto believes that knowledge is power, and by opening its doors to the community for Open Career Day, it hopes to inspire and guide individuals in their career aspirations. Whether you are a recent graduate or a professional looking for a change, Krypto welcomes you to join this event.
Established in 1995, Krypto is the market leader in the security sector with the aim of providing its clients with ultimate safety. Open Career Day reflects its dedication to providing equal opportunities for all individuals interested in pursuing a career in this exciting field.
Registration for Open Career Day is open to the public. Krypto welcomes you to simply drop by the event, having your CV in hand. For more information, you may contact Krypto at 25 736846 or at hr@krypto.com.cy
---
Ανοικτή Ημέρα Καριέρας από την Krypto
Με ιδιαίτερη χαρά, η Krypto ανακοινώνει την επερχόμενη Ανοικτή Ημέρα Καριέρας, μια μοναδική ευκαιρία για επαγγελματίες από κάθε κλάδο να εξερευνήσουν και να μάθουν για τις ευκαιρίες εργοδότησης που προσφέρει ο οργανισμός, την Τετάρτη 04.10.2023 από τις 12.00 έως τις 20.00 στο Columbia Plaza, στην Λεμεσό.
Η Ανοικτή Ημέρα Καριέρας από την Krypto έχει στόχο να ενημερώσει όσους αναζητούν εργασία και οποιονδήποτε ενδιαφέρεται για την αγορά ασφάλειας, για τις ευκαιρίες που παρέχει για τα επόμενα βήματα της επαγγελματικής τους σταδιοδρομίας. Συγκεκριμένα, η Krypto προσφέρει ευκαιρίες καριέρας για 10+ θέσεις:
Εμπορικός Διευθυντής
Διευθυντής Tεχνικού Τμήματος
Business Administrator
Υπεύθυνος Πωλήσεων
Υπεύθυνος Τιμολόγησης και Ανάκτησης Οφειλών
Υπεύθυνος Υποδοχής
Συντονιστής Τεχνικού Τμήματος
Ανώτερος Τεχνικός
Τεχνικός Υπηρεσιών
Τεχνικός
Υπεύθυνος Έργων / Ηλεκτρομηχανολόγος Μηχανικός
H Krypto ανοίγει τις πόρτες της και μέσα από την Ανοικτή Ημέρα Καριέρας, ελπίζει να εμπνεύσει και να καθοδηγήσει τους συμμετέχοντες ως προς τις νέες επαγγελματικές τους φιλοδοξίες. Είτε είστε πρόσφατα απόφοιτος είτε επαγγελματίας που αναζητάτε μια αλλαγή, η Krypto σας καλωσορίζει να παρευρεθείτε στην ημέρα αυτή.
Η Krypto ιδρύθηκε το 1995 και σήμερα είναι ο ηγέτης της αγοράς στον τομέα της ασφάλειας παρέχοντας διαχρονικά στους πελάτες της την απόλυτη προστασία με ολοκληρωμένες λύσεις και προϊόντα ασφαλείας. Η Ανοικτή Ημέρα Καριέρας αντανακλά την αφοσίωσή της εταιρείας στην παροχή ίσων ευκαιριών σε όλα τα άτομα που ενδιαφέρονται να εργοδοτηθούν σε αυτόν τον συναρπαστικό τομέα.
Η συμμετοχή στην Ανοικτή Ημέρα Καριέρας είναι ανοικτή προς το κοινό. Χρειάζεται μόνο να παρευρεθείτε στον χώρο και να έχετε μαζί σας το βιογραφικό σας. Για περισσότερες πληροφορίες, μπορείτε να επικοινωνήσετε με την Krypto στο 25 736846 ή στο hr@krypto.com.cy