Introducing the Krypto Friends & Family Pack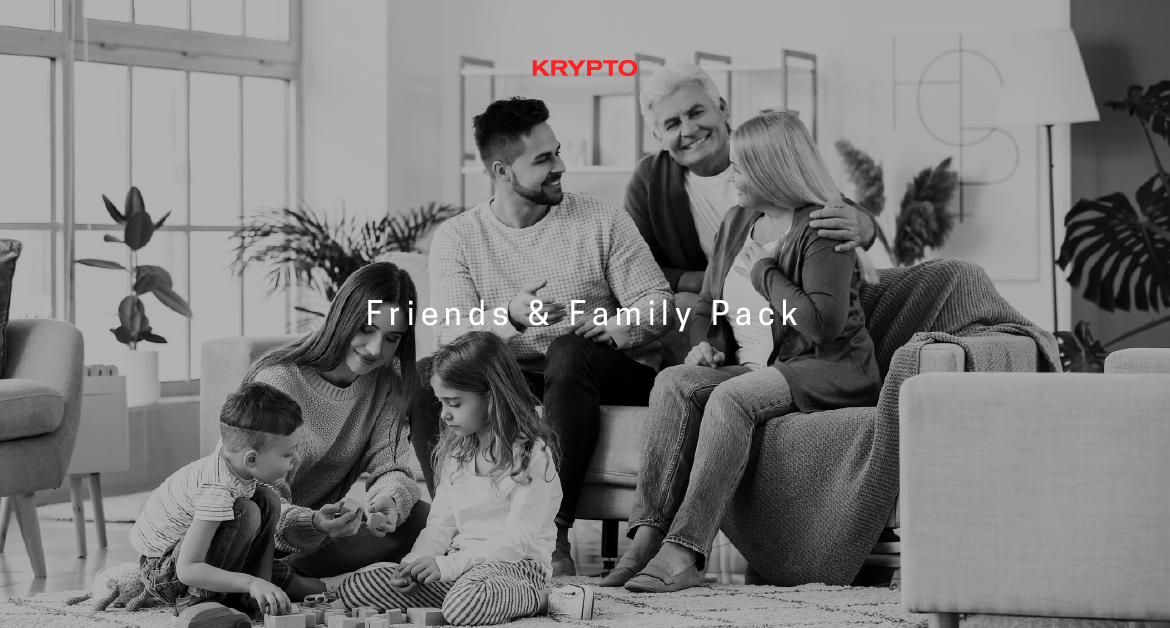 Safety and Security is a vital commodity. In a day and age where criminality is on the rise and thefts and burglaries can disrupt normal routine and even undermine one's future, having property without a security system is like gambling with one's livelihood and pulling the final card every single day. A successful burglary may cripple a household and business financially and even incur long term costs as the owners struggle to rebound.
At the same time, installing and maintaining a security system can be costly, which deters people from getting much-needed protection and living in constant risk and fear, something that undermines smooth work and leisure practices on a chronic scale.
At Krypto, we aim to keep as many people as possible protected and safe, improving their quality of life by the sheer elimination of the stress of potential house attacks or even house invasions that we all constantly hear about in the news. Protecting people's properties has always been Krypto Security's primary expertise, with policies and practices that place Krypto at the lead of competition when it comes to security businesses in Cyprus.
Keeping up with Krypto's mission for constant innovation of services, Krypto is proud to introduce the Krypto Friends & Family Pack program.
Recognizing the considerable investment that is required for an efficient security system installation that will protect a household from all possible aggressors, from potential perpetrators to accidents and other unforeseeable events, Krypto's Friends & Family Pack program greatly reduces the cost on the family level by granting big discounts up to 30% when 3 new houses/offices are placed at once.
Acquiring these discounts is quite easy!
If members of the same family or close friends seek to fortify and protect their households or businesses by installing and maintaining a security system, they can apply and be included in the Family Pack program and get what they need for significant discounts.
All that is required is for the family members to need security services for more than one house or workplace.
The more members and the more the households or family business premises joining the program, the higher the discounts.
Krypto's Friends & Family Pack program includes products as well as services in the potential discounts. Through this innovative solution, many households can acquire state-of-the-art equipment from some of the world's best security equipment companies such as Avigilon, Uniview, Inim, Crow, Kocom and others, at a fraction of their original price.
At the same time, Krypto's top-tier services also become easily accessible, completing the system of protection for what is probably going to be the lowest price for such high quality!
The Krypto Friends & Family Pack program expands to any and all family members, but also to friends that may be interested in benefiting.
All that is necessary for the client is to contact us and the world of cutting-edge safety & security services will be open at the lowest possible prices, without compromising quality, flexibility, or any of the characteristics that have made Krypto Security the spearhead of the security sector in Cyprus for more than two decades.
As the CEO of Krypto George Georgiou stated, "As of Monday the 8th of March 2021 and after 3 years in the making my company will be able to provide solutions for every single person through our Friends & Family Pack which will offer next day's technologies at prices never heard of before. With this unique pack, Krypto will be able to provide Safety and Security for everyone. I would like to thank my Krypto Team that through perseverance and hard work has managed to ink a double-digit increase in sales over the past 3 years making my unlimited safety for all seem possible. Monday, March the 8th not only it's International Women's Day 2021 but one of the most important days in my career as one of my long term visions will be materialized. Krypto was born in 1995 with many goals and targets but a single vision which was to provide unlimited safety for all."