August's Offer of the Month: A superb Back to Business / Work from Home Solution!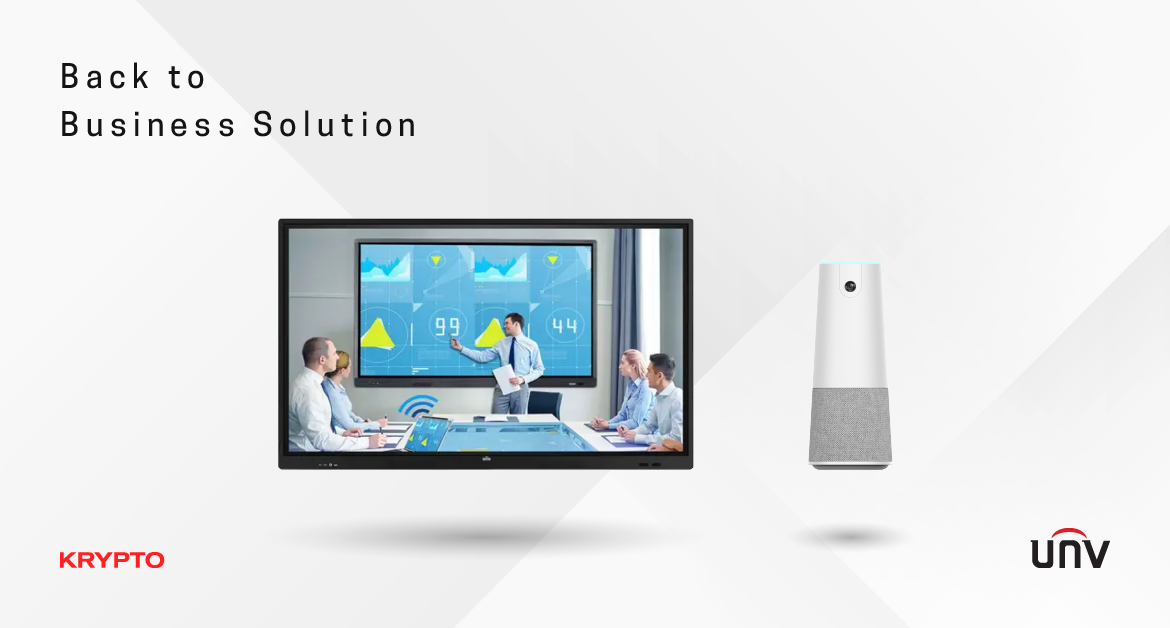 Today, the need for connectivity is higher than ever. With the new era following the Covid-19 pandemic, technology has become the main window to learning, to socializing, to working, to collaborating and often to entertainment. And because so much of our daily life is now dependent on reliable hardware, it is of utmost importance that we have robust tools in action.
Krypto's Audio and Visual Division rises up to the challenge offering top-quality solutions at the best possible value for money.
This month's Back to Business Solution is designed to cover the average user needs for school, work, and leisure, at the best possible price.
Buy a 65" or 75" Uniview Interactive Panel with 13% discount and get a Uniview A30T Video Conference Camera for FREE!
65" or 75" Uniview Interactive Panel
Uniview Interactive Panel comes with a 65" or 75" ultra-HD display and the following features:
Metal housing, 4mm AG anti-glare tempered glass, and ultra-thin and ultra-narrow appearance
IR (Infrared Ray) touch technology supports 20 points writing.
Writing height below 2 mm to bring smoother writing experience
All-channel annotating, built-in Android writing software
Smart sidebar menu
Wireless screen sharing, convenient to presentation
Built-in Android system and optional with Pluggable PC Module
Double LAN bridging, supporting Android, Pluggable PC Module (Windows system) and external PC realize network bridging
Public USB port auto switch
Antenna hidden inside
All channels can be loop-outed by HDMI
Univew A30T Video Conference Camera
The A30T Video Conferencing Camera from Uniview enters the market with a ton of advanced features along with plug and play operation.
This easy to use Camera sports a 100° wide angle so small to medium sized conference meetings are easily covered. If you are concerned about the sound quality of your meetings, then you will love the built in 4-element omnidirectional microphone array and 5 Meter Voice pick up.
Uniview has made video conferencing easy with this plug and play, USB video conferencing device. Even better, the camera supports WDR (Wide Dynamic Range) so areas with complex lighting are covered evenly. The A30T is perfect for meeting from 1 to 8 people and can help boost efficiency during online collaboration.
A30T Video Conferencing Camera Features:
Omnidirectional 4 Microphone Array Algorithm
5 Meter (15 Foot) Far Field Clear voice pickup
Exclusive AI noise-suppression technology
Real Full Duplex HQ uninterrupted communication
100° Wide Angle camera
Plug and Play general compatibility with leading online conference platforms
Audio and Video all in one device for intuitive control