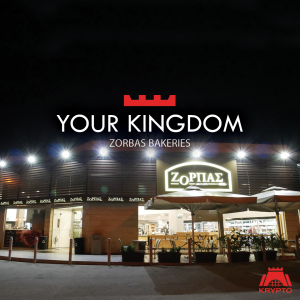 With a long tradition dating back more than 40 years, Zorbas Bakeries has evolved into the largest bakery chain in Cyprus, employing more than 2,500 people and serving more than 70,000 customers daily. As the decades pass by, the company's core values remain the same: quality, consistency and constant development.
It goes without saying that for such a large and successful company, the need for a reliable security system was of the utmost importance to help ensure the safety of its customers, staff and resources, as well as the smooth and uninterrupted company operations.
We were more than happy to help Zorbas Bakeries achieve this task, providing a complete Avigilon video surveillance and access control solution. Thanks to Krypto's and Avigilon's top quality products and services, Zorbas Bakeries is now able to leverage advanced artificial intelligence technology and video analytic capabilities to effectively monitor all of its sites and proactively respond to potentially critical events.
So far, Zorbas Bakeries has been able to not only achieve but exceed their security goals!
All we can say is… thank you for trusting the Krypto Team!