Krypto Friends and Family Plan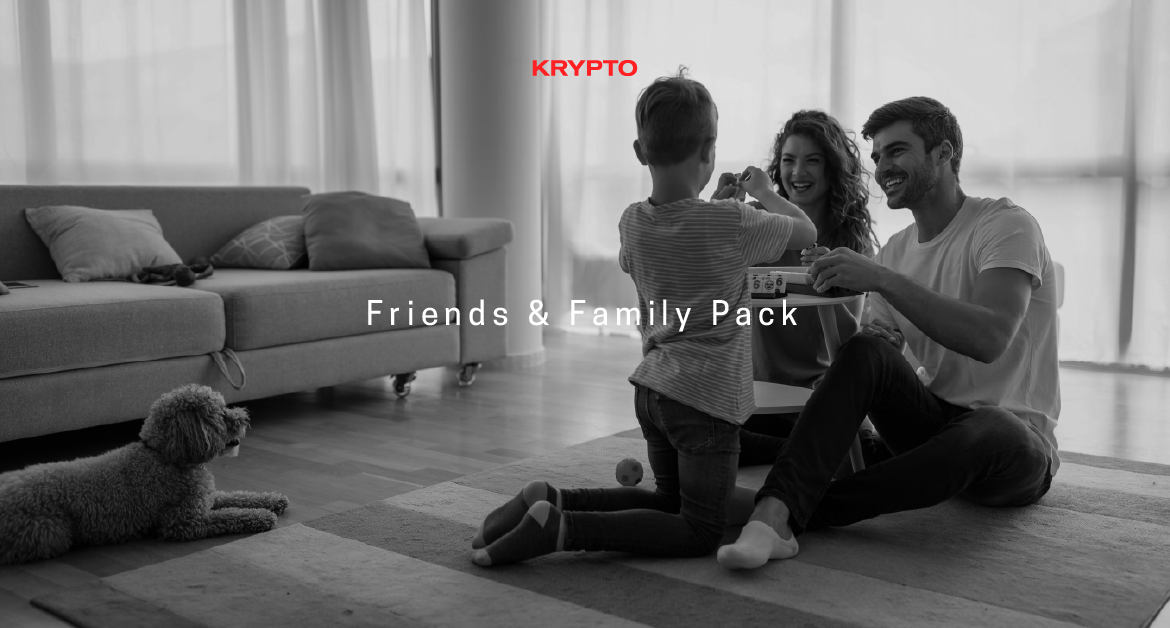 In today's risky reality, our daily routine requires us to take active steps for our safety, in the home as well as the workplace. With burglaries and criminality remaining high, it is only prudent to equip our property with a robust security system that will offer us peace of mind and the opportunity to focus on our daily tasks.
Sometimes, however, acquiring and maintaining such a security system is a costly affair, especially with today's demands of a reliable CCTV system and various access control devices. However, a house or business without proper protection becomes a target for every crime of opportunity. It is simply considered unsustainable to protect a house or a business without a reliable security system in place.
Krypto is dedicated to bringing safety and peace of mind to as many people as possible. Getting high quality, reliable, state-of-the-art equipment on a budget is part of Krypto's mission to make a safe environment accessible to all.
That's why Krypto has launched and maintains the innovative budget plan of Krypto Friends and Family Program: a plan which allows you to get useful discounts that will allow you to update and upkeep your security system as required for maximum safety.
If you and your friends seek to enhance the security of your premises, Krypto will help you do so at an excellent price.
It is easy to enter the Krypto Friends and Family Program: all that's needed is for three new houses or businesses to place orders for a security system together. Whether the owners of the properties are related or simply friends is irrelevant. All that is needed is for them to place the orders together.
This will give each client up to a 30% discount on every purchase, making top-tier technology, excellent service, and other perks available on a budget. That includes Krypto's unique pre-sales consultation services which will ensure that you get the system you need, not whatever there is on the shelf, making it cost-efficient and custom made for you.
At Krypto we want your house and your business to be heavens of safety where disruption simply does not occur. We seek to protect as many properties as possible at the lowest price, and the Family and Friends program is only one of the many innovations of service that Krypto has created for you.
All you and your family or friends need to do is apply at the same time and become members of the Krypto community of safety and excellence in technology and protection.
With the Krypto Family and Friends Program, a robust, reliable, modern security system is now within the reach of you and your loved ones.
Contact us today and give yourself the best possible security, with the guarantee of the leader in Cyprus' security industry sector, at the best possible price.